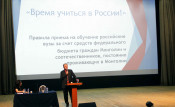 Share content in social networks:
Russian language teachers from Mongolia attend advanced training courses at the Russian Center for Science and Culture
At the end of March, at the initiative of the Russian Center for Science and Culture in Ulan Bator with the assistance of the Department of Education of Ulan Bator and the Institute for the Development of Education under the Ministry of Education, Culture, Science and Sports of Mongolia, the courses were held for teachers of Russian as a foreign language on the topic "Modern methods and technologies of teaching Russian as a foreign language".
At the opening of the courses, the head of the Rossotrudnichestvo office in Mongolia, Yevgeny Mikhailov informed the participants that in recent years an interest in learning Russian among the Mongolian youth has increased for many reasons. One of the most important is the allocation by the Russian Federation of quotas for free education in Russian universities, which this year reached a record level of 500 seats. Every year the Rossotrudnichestvo representative office in Mongolia holds a selection campaign for training in Russia at the expense of the federal budget, and the number of those wishing to take part in qualifying tests for obtaining Russian education is growing every year.
In total, more than 200 Mongolian teachers of the Russian language have been upgraded to qualifications and certificates. Teachers of Russian language thanked the RCSC and the leadership of the Southern Federal University (Rostov-on-Don) for such an important work and noted that such courses allow to get  familiar with the novelties in the teaching of Russian as foreign language, so that teachers can learn Russian in a more interesting form using the most advanced technology.
The electronic collection "The Russian language" is presented on the Presidential Library portal. It included manuscripts and publications of monuments of Russian writing, archival affairs, scientific works (including dissertations and abstracts of dissertations), dictionaries and reference books, teaching aids. The digital collection "Russian language" will be cognitive not only to the scientific and educational community and linguists, but also to a wide range of users who love and appreciate the Russian language.
According to the portal http://rs.gov.ru