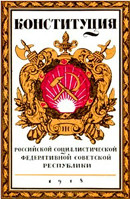 The first Constitution of RSFSR adopted
On July 10, 1918 the 5th All-Russian Congress of Soviets adopted the first Soviet Constitution which determined the main structural principles of the new state. The majority of the principles were developed in the course of revolution and reflected in the first decrees of the Soviet rule and also in documents of the All-Russian Soviets' congresses.
The first Constitution of RSFSFR consisted of 6 parts and included 17 chapters and 90 articles.
The first part of the Constitution of 1918 included the "Declaration of rights of working and exploited people". The Constitution stipulated the state of proletariat dictatorship as the essential mechanism for building socialism and the Soviets of workers', peasants' and Red Army deputies as the state form of this dictatorship.
The state power was declared to belong only to the working part of the population. Non-working classes or groups were supposed to be deprived of political rights. As to the voting right, workers were given certain advantages in comparison to other classes including peasants.
The Constitution of 1918 established the All-Russian Congress of Soviets as the supreme power body in the country; in the period between its sessions the role of the supreme body was assigned to the All-Russian Central Executive Committee. The Congress of Soviets was authorized to abolish any document of any government body which contradicted to the Constitution or the deeds of the Congress of Soviets. The All-Russian Central Executive Committee had a right to abolish or suspend decrees and decisions of the Soviet of People's Commissars. Later the same function was attributed to the Presidium of the All-Russian Central Executive Committee.
The Constitution stipulated indirect election to regional and superior government bodies, established the industrial and territory principle of election to the Soviets.
The People's Commissariat of Education was obliged to implement to all schools of the Russian Republic the study of main provisions of the Constitution, their explanation and interpretation.
The main principles of the Constitution of 1918 underlain not only the following constitutions of union and autonomous Soviet republics, but also became fundamental for the Constitution of USSR of 1924, the first union constitution which legalized in 1922 the formation of the Union of Soviet Socialist Republics.
Lit.: Конституция РСФСР 1918 года: принятие, основные положения // Конституционное право России: Советское конституционное право от 1918 года до Сталинской конституции. Гл. 1. [Электронный ресурс] // Всё о праве. 2003-2014. URL: http://www.allpravo.ru/library/doc117p/instrum118/item244.html; Чистяков О. И. Конституция РСФСР 1918 года. М., 2003; То же [Электронный ресурс]. URL: http://constitution.garant.ru/DOC_3888990.htm.
Based on the Presidential Library's materials:
Конституция (основной закон) Российской Социалистической Федеративной Советской Республики. Пг., 1918;
The Constitution (basic law) of the RSFSR of 1918 // Constitution – Basic law: [digital collection];;
The "Stalin" Constitution adopted 75 years ago // On this day. 5 December 1936;
'Brezhnev' constitution adopted 35 years ago // On this day. 7 Oktober 1977;
The Russian Federation Constitution adopted // On this day. 12 December 1993.