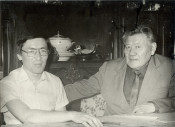 Share content in social networks:
Reminiscences about a defender of Leningrad to enter the Presidential Library's collections
The Presidential Library has been receiving materials as part of a large-scale campaign launched last November in an effort to collect first-hand accounts of the siege. This time we got a letter from Kasym Maulenov, son of the prominent Kazakh poet Syrbai Maulenov, who defended Leningrad on the Volkhov Front, was seriously wounded and kept the memories of that time alive through his whole life.
The author of the memories about his father is Doctor of Law, Professor Kasym Maulenov, a graduate of Leningrad State University, who has maintained his ties with Russia and promotes integration of two countries.
"My father, Syrbai Maulenov, People's (National) Writer of the Republic of Kazakhstan, laureate of the Abay State Prize of Kazakhstan, Alexander Fadeev State Prize of the USSR, author of Soviet and Kazakh classics, passed away 25 years ago.
A young Kazakh officer fought on the Volkhov Front and liberated besieged Leningrad. In 1941 father joined the army and served as deputy commander of a rifle company of the 163rd rifle regiment (Volkhov Front). On January 18, 1943 he was seriously wounded during the breakthrough of the Leningrad siege. My father often told me about the preparation they did in the frozen trenches near Leningrad for breaking the siege.
"Seriously wounded, in hospital, I recalled my friends, fellow soldiers - those, who stayed alive, but mostly those ones, whose souls were immortal now. I unraveled some mysteries inside of me. It was as if I reconsidered everything. The earth in the trenches before the last battle was not frozen – it was warm, like mother's chest. It gave us strength".
My father used to quote a Kazakh proverb: "There are no great distances, that can't be travelled, there are lazy legs." When the fighters rushed into the attack, the most memorable for him, for it was his last battle, their legs were not lazy.
In the father's archive I found a letter dated October 22, 1942 from author of Soviet classics Nikolay Tikhonov - the answer to my father, who was in besieged Leningrad. "I am very happy that a young Kazakh poet with a weapon in his hands protects Leningrad, so dear to us. One day we will meet in the city liberated from the siege, we will recite poems and talk about the great war of the Soviet people against the Nazis like about bygone days", N. Tikhonov's answer to my father read in part.
By the way, after the war, in 1949 my father met Nikolay Tikhonov at the Kazakh Literature and Art Festival in Moscow. "Alive is the soldier! He said cheerfully, showing the letter to his company. – So happy am I! He went through severe fires, stayed alive and kept the letter. "Well, since you kept my letter so carefully, I return it to you. And please accept a gift from me", he said. Then Nikolay Tikhonov presented his new book of poems "The Georgian Spring" to my father.
The wartime lyric poems had a very important place in my father's oeuvre.   
After the war, my father Syrbai was editor-in-chief of "Kazakh Adebieti" (Kazakh Literature) newspaper, and editor-in-chief of "Zhuldyz" (Star) magazine. In 1948 he published "The Collection of Poems". His other books of poems came out in 1949 - 1969. He was awarded the Abay State Prize of the Kazakh SSR in 1970 and People's (National) Writer of Kazakhstan title in 1989.
My father and I were very close. He called me the assistant to the People's Writer of Kazakhstan. On February 13, 1993 my father died. I still cry when I remember him, and I am not ashamed of my tears. On November 22, 1993 the Cabinet of Ministers of the Republic issued a long-awaited Order "On Perpetuation of Memory of People's Writer Syrbai Maulenov".
Today, streets in four cities of Kazakhstan: Almaty, Kostanay, Arkalyk, Kyzylorda along with schools in Kamyshinsky District (Kostanay Region), in Kostanay and Astana are named after my father. The Syrbai Maulenov Foundation has been also established.
Father spent all those years with my mother Kulzhamal Amirova (the great-niece of Ahmet Baitursynov - a Kazakh public figure and statesman, member of "Alash" party (was subject to repression in 1937), educator, linguist, literary scholar, expert in Turkic philology, poet and translator). My father was not scared when in the 1940s he was often interrogated by the KGB for being married to the niece of the enemy of the people.
On June 15, 2018 a ceremonial meeting dedicated to the 95th anniversary of Syrbai Maulenov, People's Writer of the Republic of Kazakhstan, author of Soviet and Kazakh classics, took place in the Grand Hall of the Writers' Union of Kazakhstan in Almaty."