Yulian Semyonov (1931–1993)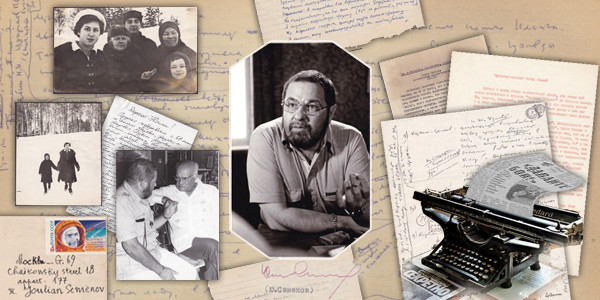 The collection, dedicated to the 85th anniversary of the birth of the writer, journalist, filmmaker and social activist Yulian Semyonov, includes digital copies of books, manuscripts, papers, archive documents and graphic materials that illustrate his life and a multifaceted, creative and social activity.
Since 1955, Semyonov began studying journalism, his works were published in the "Ogonek", "Pravda", "Literary Gazette" and other periodicals.
In the domestic literature the writer came as the author of action-works "Petrovka 38", "Confrontation", "TASS is authorized to declare", "Major Whirlwind", "Seventeen Moments of Spring" and others. All these works have been filmed, which brought them great fame.
Semyonov has become one of the founders of the genre of investigative journalism, the President of the International Association of detective novels, and political (MADPR), editor in chief of the USSR's first independent periodical - magazine "Detective and politics".
In 1988, in collaboration with V. Livanov and V. Solomin he opened the Moscow Experimental Theatre "Detective", and in 1989 he founded the newspaper "Top Secret" and TV show of the same name.
The collection includes 326 storage units.
To prepare the collection were used materials from the Cultural Foundation by Yulian Semyonov and the St. Petersburg State Theatre Library.